abebooks.com ....
Formally known as the Advanced Book Exchange and originally based in Vancouver, B.C. this company has now become one of the world's largest network of independent booksellers with a claimed combined database of some 40 million titles. That's pretty impressive, no matter how you look at it. Use these links if you prefer to pay in US or Canadian dollars but, as with most booksellers, don't worry about shipping - they all ship Internationally. The top of page banners link directly to the abebooks.com homepage, you may use the active search banner below to find a desired volume.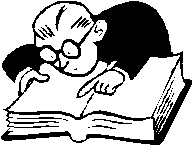 Given our interests in antique books we use the search box above quite frequently, but even relatively modern subjects have more out of print books than current it seems. We were doing some research on an old programming language called Tutor and through ABE books located one of only about thirty copies of a specific primer - we had our hands on a copy in fine condition in less than a week. There are plenty of old books around - without companies like this where databases and inventory from over 1500 independent book sellers are available it would have been virtually impossible to locate this particular tome.
You may also like to check out these other feature pages from Decklin's Domain Books ~

Of course ABEbooks are not the only source for antique books or out of print books. Alibris is almost as well-known by lovers of old books although they have interests outside of the print media.
---
Still not found the out of print books you want? Feel free to visit the Decklin's Domain public forums by clicking "here" !!! You can post a short description of what you want and check back from time to time. Out of print books and old books may often be found this way with a little patience.