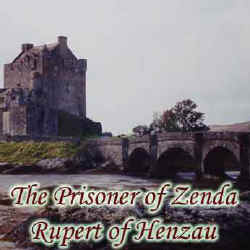 by Anthony Hope,
narrated by Patrick Horgan
14h 10m $8.95

Rupert of Hentzau
Rupert of Hentzau (from the memoirs of Fritz von Tarlenheim) was published by Anthony Hope (Sir Anthony Hope Hawkins) in 1898, four years after his more well-known novel The Prisoner of Zenda. It is, of course, a sequel and continues the tale of Englishman Rupert Rassendyll who bears a striking resemblance to the King of Ruritania. Rudolf is in love with the Queen, who is unhappily married and when Rupert of Hentzau intercepts a love letter intended for Rupert he could find himself in serious trouble.
Worldtainment Inc. publishes audio books in mp3 CD format and this volume contains the two most well-known Anthony Hope books, the Prisoner of Zenda and sequel Rupert of Hentzau.
Audio books are provided in PC compatible mp3 format on CD and may be copied for personal use onto your PC and from there to another portable mp3 player or PDA provided there is enough memory. Files on the CD are arranged by chapter and you will find that applications such as Windows Media Player and Winamp will play the CDs as will most modern DVD players. Many portable CD players recognize both regular music CDs and mp3 formats. No special e-book style program is required to listen to our audiobooks.